SEPTIC TANK EFFLUENT & LIQUID WASTE DISPOSAL
We carry out emptying of septic tanks, cesspools, portaloos, grease separators & petrol/oil interceptors. All waste streams are transported to a licensed disposal facility for treatment. We are a registered waste carrier/broker with the Environment Agency. Registration No: CBDU178694
CLEARING IN NUMEROUS ENVIRONMENTS
Using efficient vacuum tankers, we are capable of clearing liquid waste from both residential and commercial properties. We are certified and accredited to deal with liquid waste in all manner of environments, including:
Septic Tanks  |  Cesspits  |  Grease Traps  |  Sewage Treatment Plants  |  Pumping Stations
Do you have a drainage problem?
When a drain becomes blocked, there are many different possible causes. We have skilled and qualified drainage technicians who can, by conducting a drain survey, identify the cause of your own blocked drain before recommending the most effective remedy.
Our drain specialists have various methods at their disposal – ranging from simply cleaning pipes to repairing a damaged drainage system – for resolving issues.
Our local drainage company, AMS Drain Services, formed in 1992 before it was incorporated as a limited company in 2000. Right from the start, we have served both domestic and commercial clients – and, through our commitment to a high standard of work and service, have become one of the leading drain companies in the South West.
Who and where can we serve?
The markets for which we cater include the domestic market and construction and facility management sectors. We also offer our drain services to builders, plumbers, farmers, estate agents and insurance companies.
The large variety of workplaces in which we can treat drainage problems includes prisons, factories, hotels, schools, colleges, docks, and zoos. The availability of our services also extends to motorway service areas, country estates, and estate management companies.
Learn more about our credentials
We are proud to say that we are members of various professional bodies relating to the drainage services sector. These organisations include the National Association of Drainage Contractors and the Federation of Master Builders. Our website includes many further details about our services and credentials.
Where we cannot resolve any complaints using our own complaints procedure, as a Which? Trusted trader we use Dispute Resolution Ombudsman for dispute resolution. In the unlikely event of a complaint arising and you wish to refer the complaint to them please contact 0333 241 3209 or via their website http://www.disputeresolutionombudsman.org/membership/whichtrustedtraders/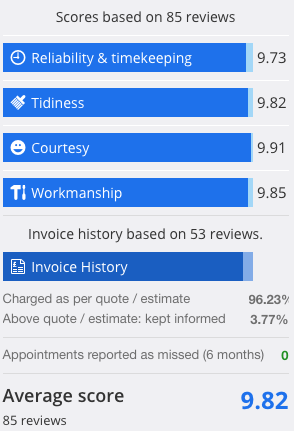 We have engineers operating in all areas however
please note all calls are answered by central control in Bristol.